Testing Center (Laboratory)
SETsafe | SETfuse Test Center Laboratory was Founded in 2001, The laboratory is located at 8001 Xiang'an West Road, Torch High-tech Zone (Xiang'an) Industrial Zone, Xiamen, Fujian P.R.China, and occupies an area of 2300 square meters / 24,000 square feet. It is equipped with more than a dozen specific function and focus professional laboratories and more than 300 sets of specialized testing equipment. It has the lightning current impulse test system (240 kA) for the largest current impulse test in Fujian Province, and has International advanced testing equipment, such as: Constant temperature and humidity test chamber, Rapid temperature change test chamber, Thermal shock test chamber (WEISS TECHNIK / Germany), Test oven (MEMMERT / Germany), Thermal shock test chamber (HITACHI / Japan), Polarization energy dispersive X-ray fluorescence spectrometer (SPECTRO / Germany), Routine fourier transform infrared (FT-IR) spectrometer (BRUKER / Germany), Electronic universal test equipment (SHIMADZU / Japan), Simultaneous thermal analyzer (NETZSCH / Germany), Optical digital ultra-depth of field microscope (OLYMPUS / Japan), Ultra-high-speed intelligent particle size analyzer (MALVERN PANALYTICAL / UK), Automatic turret micro hardness tester (BOWMAN / USA), etc.
Laboratory Test Categories
The testing focus of the laboratory covers material analysis class, temperature test class, environmental test class, electrical test class, lightning current test class, with more than 600 testing items, and has the testing capabilities of IEC international standards, EN European standards, UL standards, and national and industry standards. Test items include Marking test, Tensile test, Thrust test, Creepage distances and clearances, Dielectric strength, Insulation resistance, Holding temperature, Functioning temperature, Maximum temperature limit, Ageing, Varistor voltage, Leakage current, Voltage proof, Clamping voltage, Maximum peak current, Rated average dissipation power, Pulse current, Maximum continuous operating voltage, Determine the voltage protection level, Measured limiting voltage, Operating duty test, Combination pulse, Thermal stability, Thermal trip test, Interrupting current, Transient overload current, Short-circuit current be haviour tests, TOVs caused by faults in the low voltage system, TOVs caused by faults in the high(medium)voltage system, Rapid change of temperature, Thermal shock test, Temperature and humidity cycle conditioning, Dry heat test, Damp heat cyclic test, Cold test , Damp heat steady stage, Salt mist test, Vibration test, Free fall test, Free fall repeated, Endurance at upper category temperature, Fire hazard, Ball pressure test, Tracking resistance, Glow wire test, Needle-flame test, etc.
Witnessed Test Data Program(WTDP)
The laboratory has obtained the qualification of UL under Witnessed Test Data Program(WTDP) (UL 1449, UL 1434), and the accreditation qualification by TUV Rheinland (IEC/EN 60691, IEC/EN 61051-1, IEC/EN 61051-2, IEC/EN 62368-1, IEC/EN 61643-11, IEC/EN 61643-21, IEC/EN 61643-31, IEC/EN 62319-1, IEC/EN 62319-1-1, IEC/ EN 60539-1), the product has been tested in the laboratory and obtained CCC, UL, cUL, VDE, TUV, PSE, KC Agency approvals.
To download certifcate and learn more about WTDP, please click here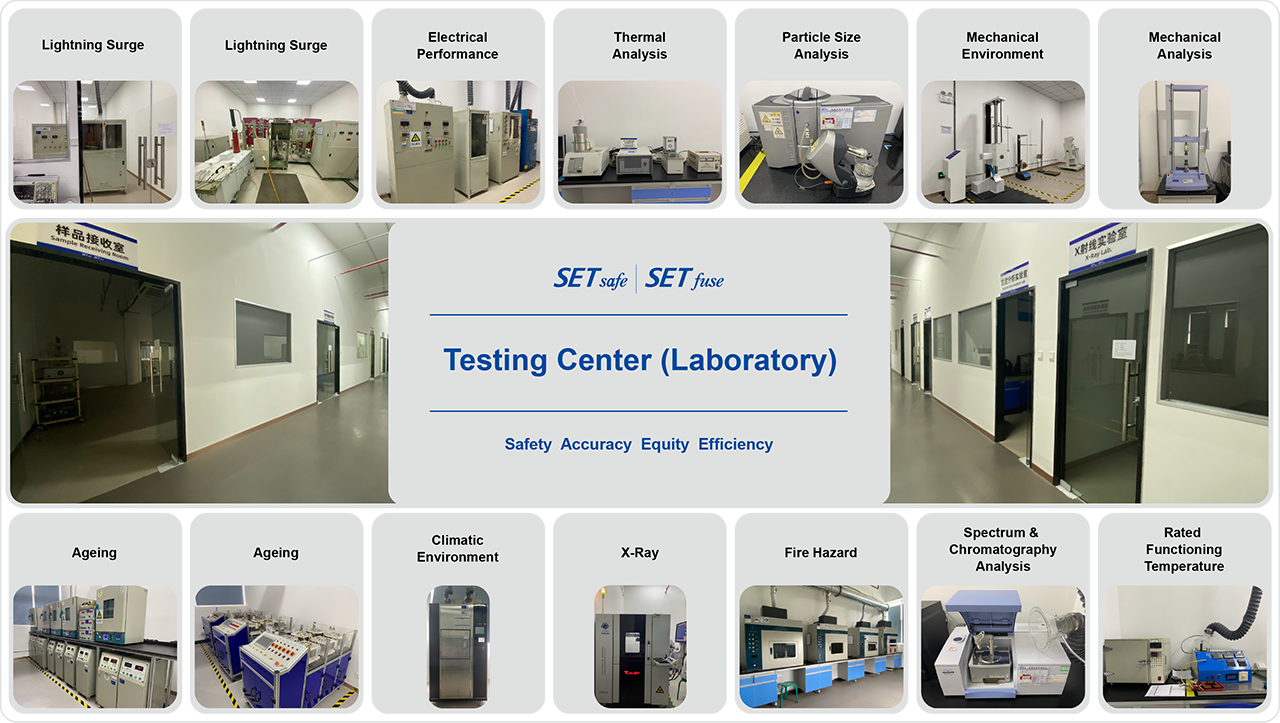 End
SETsafe | SETfuse